Sun Care Charity Golf Competition
Saturday 28th September 2019 - Ile aux Cerfs Golf Club,
Men play from White Tees
Ladies play from White Tees
Full Handicap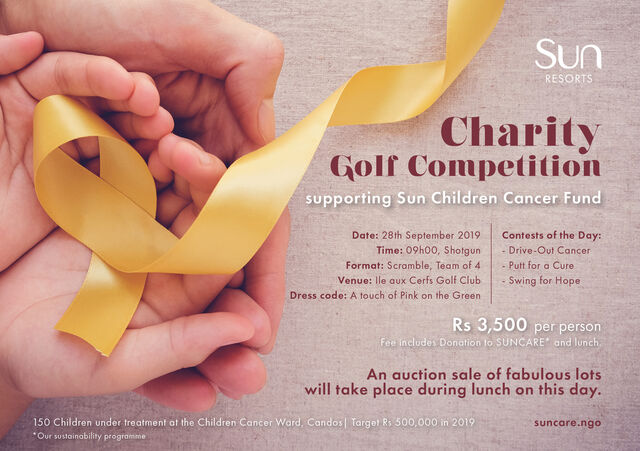 The story behind the foundation of the SUN Children Cancer Fund is one of compassion and humanity. Ten years ago, one of Sun Resorts' employees' child was diagnosed with cancer and passed away at the age of 5.
Our whole staff came together and raised Rs 8 million. From then, one positive impact became our North Star.
The funds raised were used to rebuild the Children's Cancer Ward at Victoria Hospital and break down the barriers to care: lack of medical equipment and basic supplies, lack of transportation to reach facilities, and lack of support for the patients and their families.
Each month, thirty children under 17 years of age from underprivileged communities receive relevant, appropriate, and compassionate care.
We believe every child with cancer should have access to essential healthcare. To date, we've impacted more than 1000 lives, but we have so much more to do.
Our next priorities are:
• Lack of emotional and psychological support: Sun collaborating with neuropsychologists to address the unmet psychological needs of the children and their families.
• Happier, healthier: Many of these children feel alienated from society because of their sickness. We want them to feel empowered and happy.
• Lack of transportation: We have noticed that many patients struggle to reach facilities for their recurring treatments. The lack of transportation is a barrier to care. Some children must travel to other countries to receive adequate treatment. We are working to identify the more complex cases and find a solution.
• Insufficient Education: A number of our patients are not able to pursue their schooling due to ongoing treatments and lack of funds. We are working on a volunteer programme to assist them.
The contact for this competition is
Sanjeev Gunnoo
(52581475)